Signs You Need New Brakes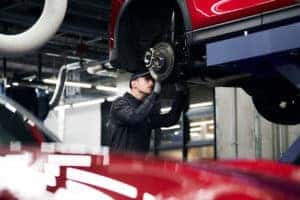 Driving without reliable brakes isn't just inconvenient – it's downright dangerous. It's important that you watch for warning signs in your vehicle and get new brakes in Omaha from Woodhouse Place Mazda once you realize yours can no longer be trusted.
How Do I Know if I Need New Brakes?
One thing is for certain – you never want to wonder if your brakes are working properly. So, if you see warning signs that they aren't working as they should, it's important to have them inspected right away and replaced if need be.
Less than ¼-inch of brake pad
Screeching or grinding sounds
Pulling to one side
Vibration when braking
How Can I Increase My Brakes' Lifespan?
While brake pad wear is inevitable, there are lots of ways that you can increase their lifespan. Bad driving habits, such as driving at excessive speeds and quickly slamming on the brakes, will leave you in need of a replacement sooner than later.
You also want to ensure your vehicle gets the maintenance it needs such as flushing your brake lines and changing warped rotors or calipers.
How Do I Order New Brakes?
Brake service and brake pad replacement is a necessary part of auto maintenance. We work to make ordering parts – and having them expertly installed – as simple as possible.
We have a convenient online request form. You just need to fill out basic details of your vehicle and add details about the parts that you need. Or you can simply reach out to our Mazda parts center – we're happy to help!
Still have questions? Reach out to our team at our Mazda dealership in Omaha, NE. We'll ensure your vehicle gets the service or replacement it needs.