Take Care of Your MAZDA and It Will Take Care of You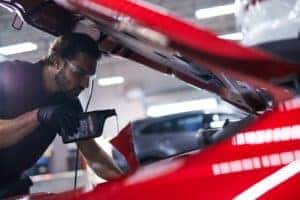 We all love our Mazda vehicle. Whether it's a classic and fun Mazda3, a modern and spacious Mazda CX-9, or the sporty and powerful Mazda MX-5 Miata, we all want the best for them. However, far too many of us end up neglecting our vehicle's most basic needs. So today, we want to share some pointers from our Service Department, who perform an oil change Omaha, NE nearly every day.
Consistency is Key
Sticking to your schedule is the most important thing to do if you want your MAZDA SUV around for as long as possible. A good rule of thumb is to bring your vehicle in for routine scheduled maintenance every 7,500 miles. This means you get your oil changed, lubricate your locks and hinges, change your windshield wiper fluid, check the air in your tires, and so on. This is also a good time to check if 7,500 miles per change is really what you need: depending on your vehicle and driving habits, you might need to change it more often. Your technician can tell you what condition the oil is in before they change it, and if it's darker than normal, you should consider bringing it in every 5,000 miles.
Don't Neglect the Big Stuff
It's so easy to say no to a maintenance problem that a technician brings up to you during an oil change when it's something that won't stop your vehicle from running. However, getting those problems taken care of as soon as possible means that you're avoiding more expensive problems down the line. It's much more affordable to flush a transmission than to replace one. It's much more affordable to get regular oil changes than to replace a blown head gasket.
Schedule Your Service Today!
So when the time comes, Woodhouse Place MAZDA makes scheduling MAZDA service simple. Schedule your appointment online, and we'll see you soon.