The Latest Mazda Models at Woodhouse Place Mazda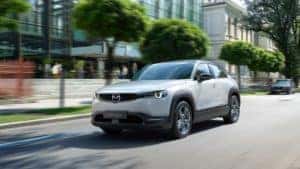 When you enjoy a premium performance, coupled with sleek styling and luxurious cabins, you're bound to love new Mazda vehicles. You'll be excited to see that the latest Mazda models continue to push the envelope in terms of innovation. There's even an all-new model coming to the line-up at Woodhouse Place Mazda.
All-New Mazda MX-30
The Mazda MX-30 isn't just all-new, it's also all-electric. It's actually the very first all-electric Mazda vehicle.
The five-passenger crossover doesn't just boast an electric powertrain, it's also composed of select sustainable materials in its cabin too. You can truly reduce your carbon footprint in the Mazda MX-30.
Amplified Performance
This powerful crossover has a series of plug-in hybrid options, too, which include a rotary generator to charge your battery and let you adventure even further.
It also includes electric G-Vectoring Control Plus, which provides responsive and precise steering too.
Sculpted Style
This sleek crossover has a stunning style, complete with an evolved version of our signature Kodo design. The pillarless freestyle door system doesn't just create a statement look. It truly opens the door to new possibilities.
Inside, its sustainable materials include cork and recycled fabrics, providing a unique style built on comfort and beauty.
Release Dates
The official release date for the Mazda MX-30 has not yet been announced. However, the all-electric Mazda MX-30 is expected this fall, while the plug-in hybrid EV is expected next spring.
Make sure to reach out to our Mazda dealership in Omaha, NE to make sure you don't miss the official release announcement. You can even reserve your own now.
And this is just one exciting Mazda release. There will be exciting updates to the current line-up too. Reach out to our team to learn more today!