Trading Up with a MAZDA Car Trade-In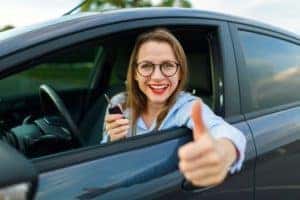 A car trade-in can allow you to purchase a new vehicle you may have previously thought was outside your price range. Contact Woodhouse Place Mazda today to see how much your car trade-in is worth. Then, come see us at our Omaha, NE dealership to pick out your next ride.
How the Car Trade-In Process Works
At our dealership, we like to keep the car trade-in process simple and straightforward. This allows drivers to rest assured that they are getting a fair trade-in offer on their vehicle.
To get started with your car trade-in, you can visit our website or stop by our Mazda dealership. Our website has a free Edmunds trade-in tool that will give you a trade-in estimate for your car.
Then, just enter in some basic information on the model, make, mileage on your car, mechanical specifics, and its condition. From there, our tool will provide you with a True Market Value Report®. This result is an accurate and unbiased estimate of what your car is worth if you were to bring it into any dealership for a trade-in right now.
Before you trade up with a Mazda car trade-in, you'll want to make sure you and your car are prepared for the trade-in process.
The first thing you'll need to do is find your vehicle registration and proof of insurance. This paperwork, along with a valid driver's license, are necessary items to have when trading in your car.
Then, take the time to gather up your service records and proof of any recent repairs or part upgrades. This information can increase your trade-in value and is helpful for when we resell your trade-in to the next driver.
Finally, clean the interior of your car to remove all personal belongings and make a quick visit to your local car wash.
Now, you're ready to visit Woodhouse Place Mazda to trade up with a car trade-in. Our Omaha, NE location has a great selection of Mazda SUV models for you to test drive.