Visit Woodhouse Place MAZDA for Certified MAZDA Service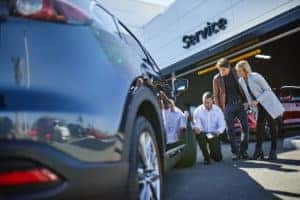 Car service and repairs are a key part of vehicle ownership. That is why drivers in Omaha, NE choose to bring their vehicles to our Woodhouse Place Mazda service center. Go online today to make your next appointment at Woodhouse Place Mazda.
Why Certified MAZDA Service Matters
Where you choose to have your new or pre-owned Mazda serviced makes a big difference, because picking the right service center will help you to get the most miles out of your Mazda car. The Woodhouse Place Mazda service center offers certified service and repairs for all Mazda brand models.
But what does "certified service" mean, and why is it so important?
Mazda certified service means that each of our service technicians has been trained and certified to work specifically on Mazda brand cars. These technicians know all the mechanical ins and outs of every Mazda vehicle. So, when you are not quite sure what is wrong with it, they can quickly diagnose and fix the problem.
Certified service matters, because it gives you peace of mind when you need to have your car serviced or repaired. Whether that takes the form of a simple oil change, battery replacement, or engine repair, you want to know that your car is in good hands.
That is why so many drivers choose to service with our Mazda service center. We offer you top-notch service from a local dealership you know and trust.
Just because you are getting certified Mazda service doesn't mean you'll end up with an expensive bill. At Woodhouse Place Mazda, our service center offers a variety of different service specials to help you save on maintenance and repair services. Visit our website to view our current discounts.
Contact a Mazda dealer near me to schedule your Mazda service or repair appointment. Our Woodhouse Place Mazda service center serves Omaha, NE, and the surrounding cities.