What to Expect from Woodhouse Mazda Service in Omaha, NE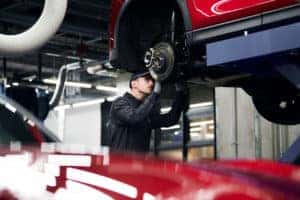 Woodhouse Mazda service is your go-to destination for car service, maintenance, repairs, part replacement, and tires. Our Omaha, NE dealership features an onsite service center staffed with only the best and brightest. Give us a call or go online today to schedule your next service appointment at Woodhouse Place Mazda.
High-Quality Woodhouse MAZDA Service
At our Mazda service center, we pride ourselves on offering drivers a high-quality car service. We can perform all the routine service and maintenance tasks your car needs to remain safe and reliable.
Plus, we do it all in a state-of-the-art service center with top-of-the-line equipment and a team of certified mechanics. A few of the most notable car services that we offer include:
Oil Changes
Multi-Point Inspections
Engine Repair
Brake Pad Replacement
Fluid Level Checks
Front End Alignment
You can easily schedule an appointment with Woodhouse Mazda service by visiting our website, where you can let us know which services your car needs and pick a time that is convenient for your busy schedule. We also offer vehicle pick-up and drop-off for drivers who live in the Omaha, NE metro area.
Woodhouse Mazda service is constantly changing and adapting to keep up with our customers' busy lives. That is why we offer Mazda digital service too. This service allows you to handle every aspect of their service needs from your laptop or smartphone.
Using the Mazda digital service, you will be able to see a vehicle inspection video taken by one of our certified mechanics. This video will show you exactly what is wrong with your car, and which services will be necessary to get you back on the road safely. You will also be able to approve and pay for all service expenses online.
Bring your SUV into a Mazda dealership near me for routine maintenance services. Woodhouse Place Mazda is the local trusted service center for drivers who live in or near Omaha, NE.